CRUISE along the "BLUE PARADISE" of TURKEY
by Exclusively chartered GULET Yachts


along the spectacular Turquoise Coast of TURKEY
From the month of May through October, a private yacht cruise along the crystal clear waters of the Aegean Sea or the Mediterranean is a "dreamlike experience", o/b one of our Turkish wooden yachts named "GULET" of different sizes from 18 to 33 meters; 4 to 8 cabins (with double beds) each having its own toilet/shower facilities- on a modest but functional basis. A licensed captain, an assistant and a cook are the service of the guests on a full time basis. The Cruise program is custom tailored by UTS-Turkey from three to seven days from/to same yacht base/pier of Bodrum/Gocek or Marmaris. We design the private land program before after yacht cruise, tailored to deliver to our guests an unforgettable experience of Turkey.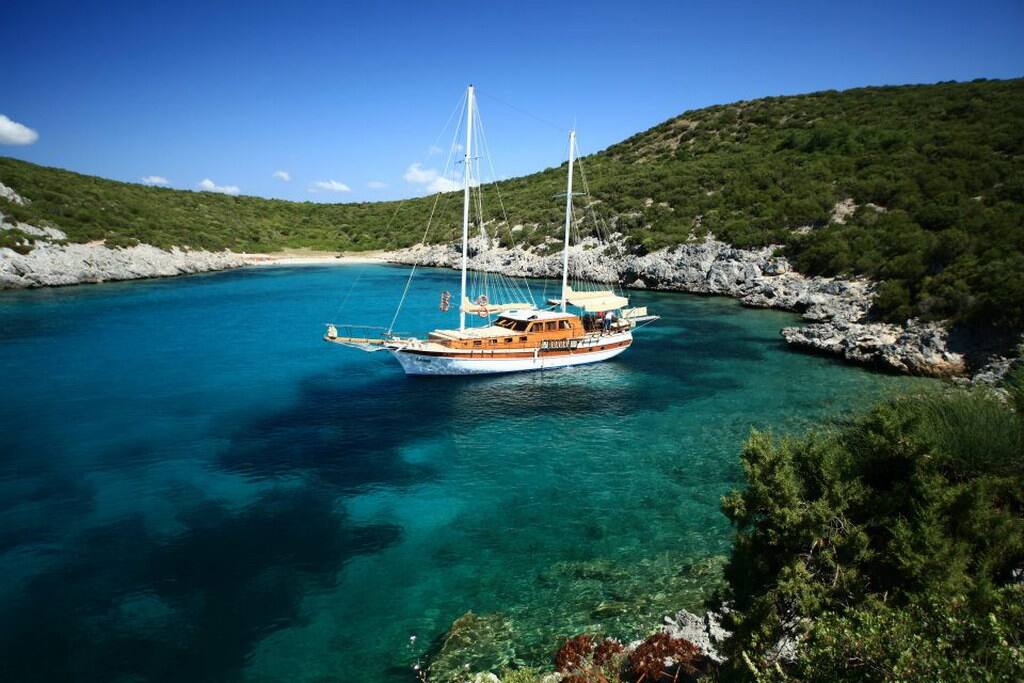 Gulets are in fact motor sailors, having comfortable deck space for outdoor living – even for sleeping if preferred- under the magical brilliant skies on warm nights. The majority of our GULET fleet has A/C cabins. The facilities o/b are typically local and basic, in comparison to the luxury of international cruise ships. Hence the exotic charm of GULETs, with the motor humming maximum four hours a day, as the yacht moves from one hidden cove to another along the lacelike shores, to dock for the night until the next day's cruising starts at the guests' pleasure, after the day's activities of swimming, fishing, or discovering the historical riches on the shores, as they please. Using the sails is up to the Captain's decision, in accordance with the wind at the time and the security of the guests.
Bed Sheets and towels are changed twice a week. Should the guests have other preferences in this regard, we deliver their wish accordingly. The guests are recommended to bring their own beach towels, and carry a small piece of luggage per person – as they only need outfits suitable for sailing o/b a small Gulet. With regard to the equipment o/b each GULET may be loaded with the requirements of the guests. (Such as windsurf, fishing equipment nets, masks, snorkels, flippers at a supplement) The GULETs are equipped with VHF radio-telephone, direction finder, Furuno radar, and CD player.